Anyone who is either building a new home or currently renovating might be wondering which is the best type of fire to choose.
A fireplace transforms any room into a peaceful retreat and is the heart of any home.  With so many options to choose from, it can be challenging to find the right one.
While every type of fireplace has its benefits, what about freestanding gas fires? And would it be the best choice for your space?
How Does a Freestanding Gas Fire Work? 
The main difference between a freestanding gas fire and other types of gas fire is they are not built-in and can be placed anywhere in your home, provided you have the correct venting.
These easy-to-install solutions come in a vast range of different designs to harmonise with your interiors.
Some styles look like traditional wood burners, and others have a sleek contemporary style. They have real flexibility and can be placed almost anywhere in a room to create a cosy look in a corner or as a show-stopping focal point.
Freestanding gas fires run on propane and natural gas
Like other gas fireplaces, freestanding gas fires run on propane or natural gas, and some types come with a supply line, so there's no worry about refuelling. Unlike electric fires, which you simply plug in, a gas freestanding fire will need a vent pipe.
So although this means you can still place one in the centre of a room, it might be easier to place it near a wall, making the vent support a little easier.
Freestanding fireplaces don't have to be built into a wall
As the very nature of a freestanding gas fire means it doesn't have to be built into the walls in your home, they can offer exposed fronts and sides in some cases, which can add to the warmth in a room and increase the output.
So what are some more of the benefits of a freestanding fireplace? Read on to discover more.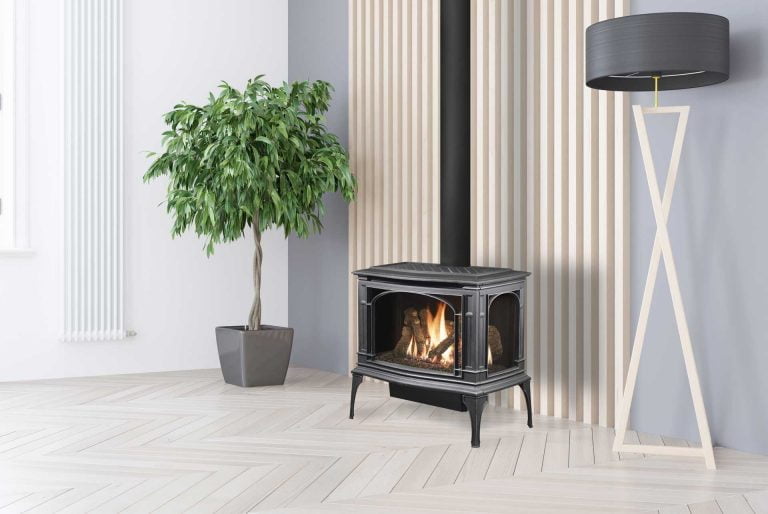 Easy to Use
One of the first and foremost benefits of choosing a freestanding gas fire over a real wood fire is the ease with which it's operated.
Usually, a wood fire needs a little more attention before you can enjoy its warmth, along with the extra chopping, stacking and wood storing processes.
In the ease of stakes, a freestanding gas fire earns brownie points because many of them come with a remote control, making turning on and off as simple as clicking a button.
Others have automatic timers, so you don't have to worry about leaving it on and forgetting about it.
Heat at The Touch of a Button
One of the chief benefits of a freestanding gas heater over any kind of wood-burning fire is that you don't need to add logs or stoke a fire.
A freestanding gas fire can provide a gentle glow and continuous heat for as long as you want to enjoy it.
Leaving the room to cook a meal and returning to find your wood fire stove needs tending just when you want to snuggle in can be frustrating. With the continual heat offered by a freestanding gas fire, you won't have to worry about re-lighting to enjoy its warmth and beauty.
Most freestanding gas fireplaces come with a thermostat, too, so you can have greater control over the heat and room temperature.
Freestanding Gas Fires Look Extremely Realistic
There's no doubt the appeal of a real wood fire can take some beating in terms of ambience, but you don't have to sacrifice looks when choosing a freestanding gas fire.
For anyone who hankers after that natural wood look with dancing flames, many freestanding gas models are incredibly realistic.
Some of the best designs will give you a choice of logs, pebbles or coals to match your interiors, and with super realistic-looking ceramic logs and embers, you can still enjoy that traditional 'log burner' feel.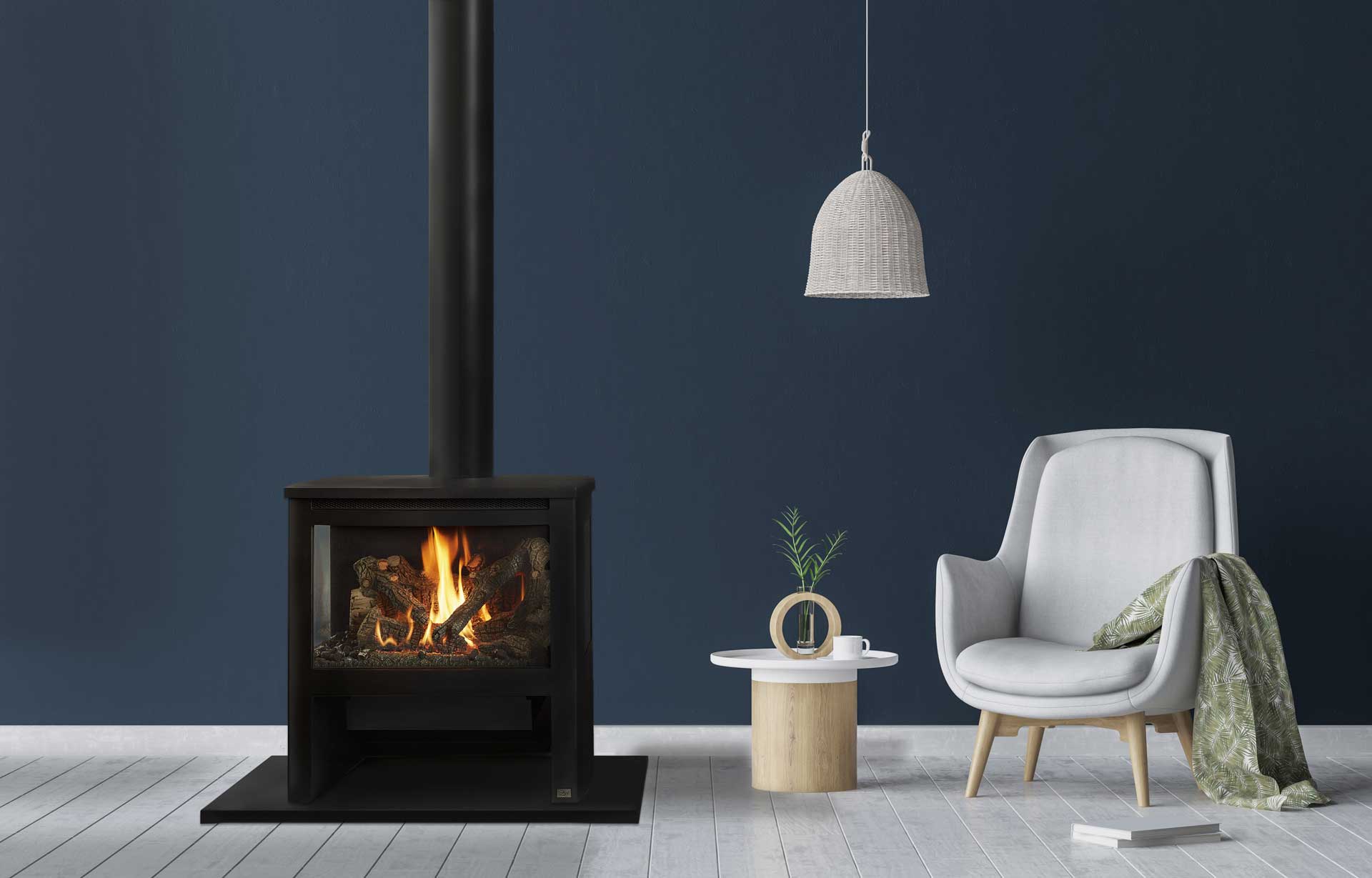 Easy Installation
As we mentioned earlier, although a freestanding gas fire might not be quite as easy to install as an electric fire, it still wins hands down compared to a real wood fire.
Installing a freestanding gas fire is a simple process with only a vent required and no chimney.
This means you can let your imagination run wild where you want to enjoy its cosy ambience, such as on a patio, a bedroom or even in a basement
Freestanding Gas Fires Can Save Money
Unlike a traditional wood burner, a gas fire simply heats the area you need. This can help save on expensive fuel bills.
Compared with wood burners, they are far more efficient and have a much more controllable heat source, which means they can save you valuable time and energy.
It's also possible with freestanding gas fires to use them in all rooms in your home so you can turn off the central heating and heat only in the rooms you're in.
Low Maintenance Freestanding Gas Fires
There's no need to clean up messy ashes and wood debris or clean dirty grates with a freestanding gas fire.
Without the kind of upkeep you would need if you had a traditional natural wood-burning stove, a freestanding variety is always ready to go.
Regular inspections are necessary to keep your fireplace in the best condition, so make sure you check it regularly.
Freestanding Gas Fires Are Safe
Over the last few decades, appliances, including freestanding gas fires, have become safer. Many now have safety precautions built into their mechanisms to keep them as safe as possible.
Some gas fires have an oxygen depletion sensor, essentially designed to shut down the fire if low levels of oxygens are reached.
This is because if there isn't enough oxygen to create the combustion required to produce energy, the result will be carbon monoxide.
If you are in any doubt concerned about gas appliances, then an extra precaution could be to add a carbon monoxide detector near where your freestanding fire is located.
In Summary 
We hope that's given you lots of inspiration and some information on the benefits of enjoying the warm cosy glow of a realistic freestanding gas fire.
Whether a log burner type fits best with your interior or you prefer a newer modern style, here at Home Fires, we have one to suit your mood and your budget.