Winter is just around the corner, so that means it's nearly time to get the fire cranking to make your home feel nice and cosy.
With temperatures dropping during the winter months in Sydney, a fireplace is a must-have to keep you warm during the cooler months.
There are three types of fireplaces, and it's important to know what each type offers to make the right decision for yourself and your home.
This article will discuss the three types of fireplaces, their pros and cons, and where you can find them in Sydney.
Wood Fireplaces
Known as the traditional fireplace, there is nothing like hearing the crackling sound of the burning wood from a wood fireplace.
These types of fireplaces bring heat and a cosy ambience to your home.
If you're looking for a fireplace that is aesthetically pleasing and provides lots of warmth, this type of fireplace is for you.
Benefits of wood fireplaces
There are many benefits that come with owning a wood fireplace, including
Heating during power outages: During the winter months, if you have a power outage, you can still heat your home as this type of fireplace doesn't require power to run.
Crackling sound and smell: Having a wood heater in your home provides you with the nostalgic crackling sound and smell of burning wood, something you can't get with gas or electric fireplaces.
Increased home value: If you ever decide to sell your home, you can have peace of mind knowing that your wood heater can increase its value.
Cheaper bills: You can expect to pay less for electricity in winter due to not having to use any to warm your home (if you only use the wood heater and no other heating source).
Drawbacks of wood fireplaces
Some drawbacks of having a wood fireplace in your home include
Buying and chopping wood: Since the only thing you need to run your fireplace is wood, a drawback is the time it takes to purchase, chop and store your wood.
Maintenance: These fireplaces require ongoing maintenance. Chimneys must be swept regularly, and ash must be disposed of properly.
Safety concerns: These fireplaces can be unsafe, especially if an ember spits out from the fireplace and reaches something flammable.
Expensive to install: If you don't have a wood heater already, it can be expensive to retrofit your house with a chimney.
Electric Fireplaces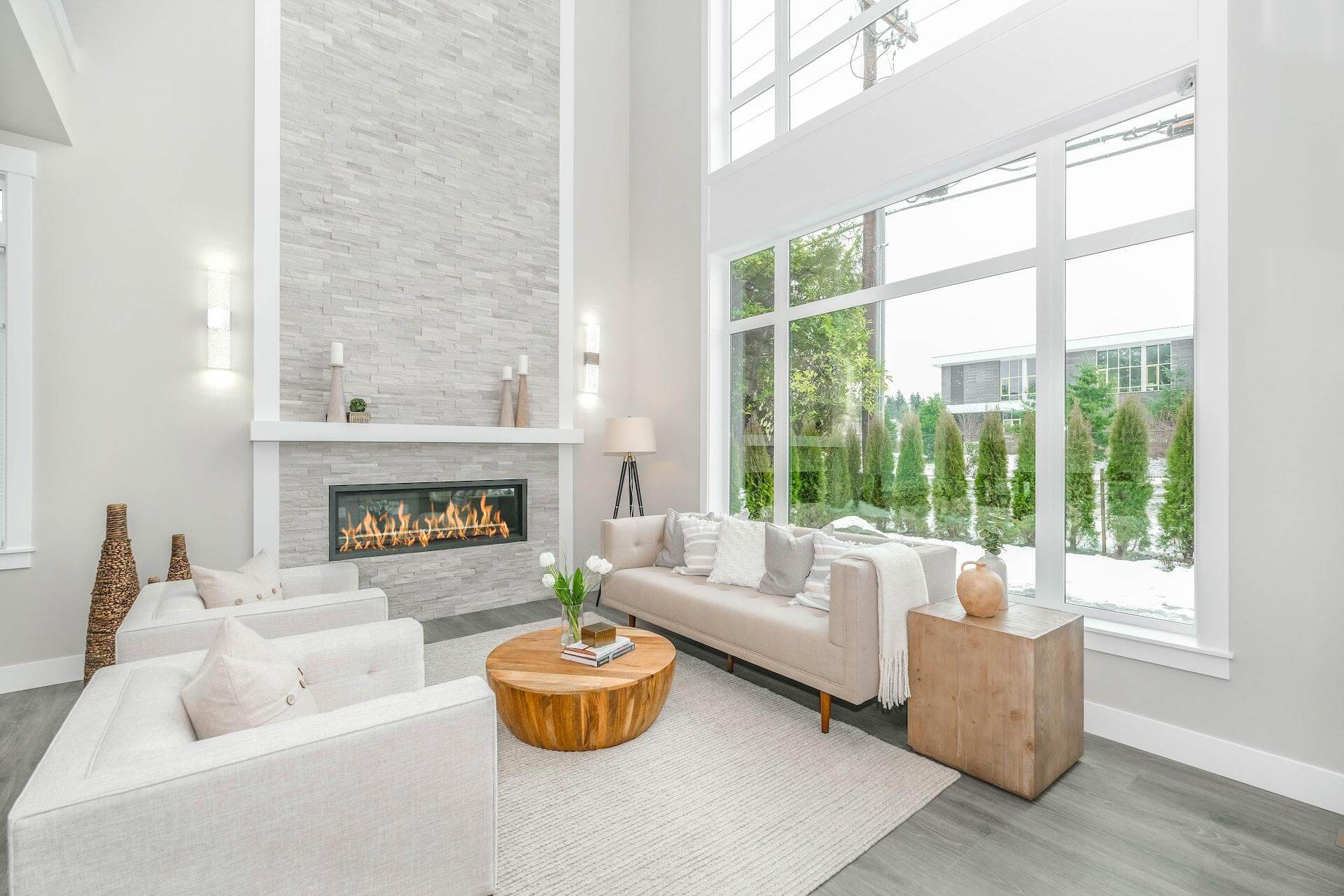 There is something appealing about having a roaring fire at the click of a button, and that's what you can expect with an electric fireplace.
Electric fireplaces work by drawing in cool air, heating it internally using a heating coil and gently forcing the warmed air back into the room using a fan.
These types of fireplaces have flickering fake flames to replicate the look of a real fireplace without the expense of having to buy wood.
With the click of a button, the flames start flickering, and warm air spreads throughout the room. Since these fireplaces are ventless, they are easy and affordable to install.
Benefits of electric fireplaces
There are many benefits of having an electric fireplace in your home, including
Eco-friendly: These fireplaces don't emit any fumes, making them an eco-friendly choice.
No firewood: With an electric heater, you never have to buy/cut up firewood, which dramatically reduces the amount of maintenance needed.
Low cost: Installing a traditional wood fireplace can cost thousands of dollars due to ensuring ventilation is done correctly. With an electric heater, you can install it anywhere as it doesn't need any ventilation.
Longevity: These fireplaces can last longer than traditional fireplaces because they aren't subject to rust and corrosion.
Drawbacks of electric fireplaces
Like everything, owning an electric fireplace does have some drawbacks, which is why they aren't for everyone.
Fake flames: An electric fireplace has fake flames, which can be a downfall if you love the crackling and popping of real burning wood.
Don't heat that well: These fireplaces aren't designed to heat the entire home.
Runs on electricity: Since these fireplaces run on electricity, you cannot heat your home when there is a power outage.
Gas Fireplaces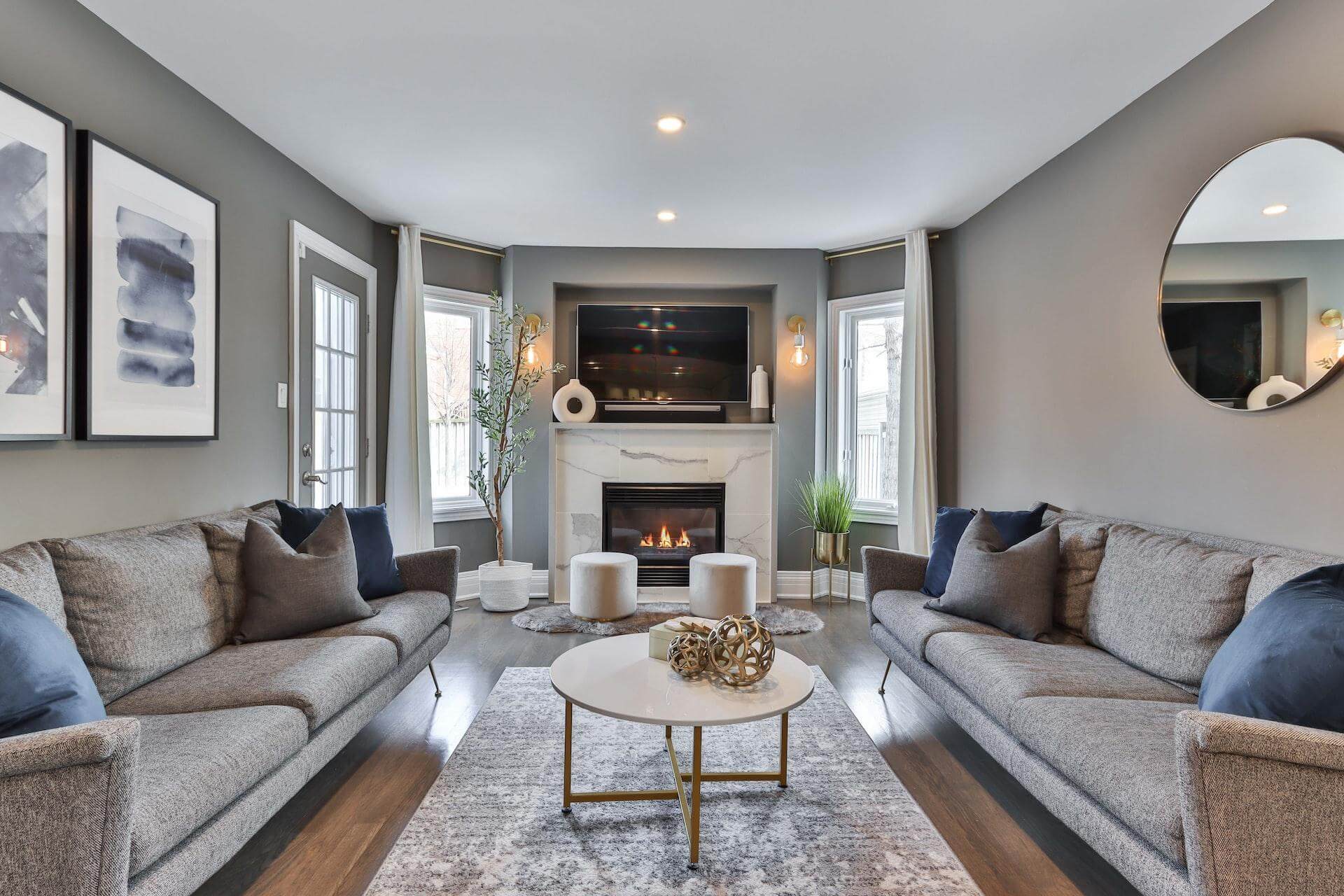 The third type of fireplace is gas, which is a common choice if you don't mind compromising ambience for simple maintenance.
Unlike wood fireplaces, a switch is all it takes to start a gas fireplace! They burn natural gas and are a popular alternative to wood heaters.
There are two main types of gas fireplaces: vented and ventless or direct-vent.
Vented fireplaces function with a firebox vented through a chimney. If you have a vented fireplace, you can use faux logs that mimic the appearance of natural wood.
As the name suggests, ventless fireplaces have no venting. These fireplaces can sit directly against internal walls as long as they remain connected to a gas line.
Benefits of gas fireplaces
Some of the benefits of owning a gas fireplace include
Clean air: Since these fireplaces don't require wood to burn, less smoke is created, and the air is kept clean.
Easy to use: All that's needed to turn your gas heater on and off is a switch!
Cheaper than alternatives: These fireplaces are much cheaper to run than electric ones.
Drawbacks of gas fireplaces
Some of the drawbacks of having a gas fireplace in your home include
Closed fireplace: While it's necessary for there to be sealed glass on a gas heater, it can be inconvenient for those who enjoy the feel of heat from a fireplace on their skin.
No ambience: There are no crackling sounds or woody smells produced by aromatic firewood.
Gas leak: The fuel line could develop a leak and enable natural gas to enter your home. However, these occurrences are rare.
Which Fireplace is Right for You?
So, now that you know the pros and cons of each type of fireplace, which one is right for you?
Wood fireplaces: If you love the crackling sound of burning wood and the smell that comes with it and aren't worried about maintenance, then this type of fireplace is for you. Known as the traditional fireplace, a wood heater can be the centre of the room and provide a lot of warmth to your home.
Electric fireplaces: If you're looking for a fireplace that is low maintenance and low cost, then this type of fireplace is for you. Although these fireplaces don't heat your home as well as the wood heater, it still does the job in one room. An electric fireplace is a perfect choice if you're after something easy and aesthetically pleasing.
Gas fireplaces: If you're looking for a new fireplace that is easy to use, has little maintenance and doesn't cost a lot, a gas fireplace is your best choice. If you don't mind not having the crackling sound and smell of wood burning but still want your home to be heated during the cooler months, this fireplace is a great option.
Buy a New Fireplace at Home Fires
With winter just around the corner, it's time to start thinking about how you will heat your home in the cooler months.
If you've been thinking about installing a fireplace in your home to keep you and your family warm this winter, look no further than Home Fires.
We have a range of wood fireplaces, electric fireplaces and gas fireplaces to choose from and will install them for you.
If you weren't sure about which type of fireplace to install in your home, hopefully, this article has helped you make an informed choice.
Visit our website or head into our store to talk to the team about which fireplace you're thinking about putting in your home. If you have any questions, don't hesitate to contact us.