Unless you're new to the BBQ world, Webers are a beloved and well-tested household name amongst BBQ enthusiasts. Now what makes them so special, you ask? As a leading brand of grilling and barbecuing, Weber offers a wide range of products to suit every cook, from charcoal, electric, smokers and gas BBQs. So whether you're a self-proclaimed Gordon Ramsay or a casual cook, you can guarantee Weber has you covered. 
Today is all about why Weber is considered a leading BBQ brand, from the history of Weber, the advantages of Weber grills and which model might be best suited for you! So dive on in and get your grill on, as after today, we feel confident you'll be on your way to ordering your own Weber this summer! 
The History of Weber 
Our story begins in the 1950s where George Stephen, an employee of Weber Brothers Metal Works in Chicago, had a lightbulb moment. From humble beginnings as a bayou welder for the Coast Guard, George also loved to grill for his family during his downtime. While the perfect way to relax, George was underwhelmed by the product offerings of the time. As a grilling enthusiast, George's expectations were high, making him the perfect candidate to cast the next best grill. 
During a day at work, George was struck with the makeshift idea while welding two buoy halves together. He could use the top half as a grilling lid, where the bottom could serve as a cooking bowl. Finalised with a pair of handles and three legs, George's vision was complete, and all that was needed was a test! 
While somewhat of a flop at the beginning with the grill not remaining lit, George's neighbour, who peaked his invention, gave him the grand idea of poking some holes in the bowls to allow some air in. George took this advice, and he finally saw flames. Celebrating his success, the spaceship jokes from George's neighbours were quickly silenced as they gathered to enjoy what was probably the best BBQ steak of their lives. From that moment, George knew the answer to perfectly grilled foods was cooking on a rounded bowl accompanied by a lid.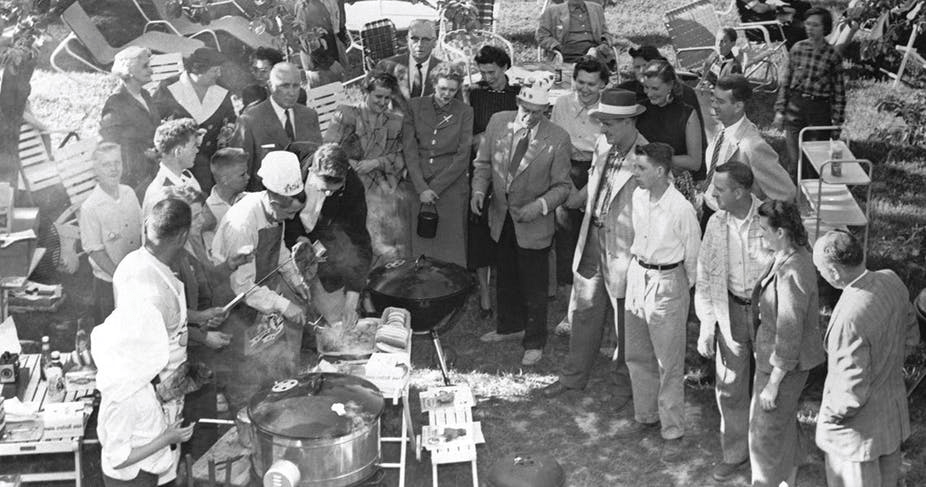 Source: Weber 
After witnessing (and tasting) George's creation, everyone wanted one of his barbecues. So, taking a leap of faith, he decided to set up his own business, enabling him to purchase Weber Brothers Metalworks (later renamed Weber-Stephen Products) in the 1950s. Talk about one heck of an entrepreneur! During his tours across the US, George and his small team demonstrated his grills cooking ability. Loved for its ease of use, simplicity and tasty dishes, George's invention spread like wildfire to the point where national television picked up on the story. Now broadcasted across the nation, George's grill became a hit in the 60s and 70s. 
George's passion for barbequing meant the company would continue to grow and improve across the years, finding new ways to improve the art form of grilling. His ingenuity would lead George to create the Genesis that changed the game of gas barbecues. Now more than 70 years later, Weber is synonymous with grilling. Following his death in 1993, George's brand remained a household name, maintaining its place as the number one BBQ globally. Reliable, trusted and performance-driven, regardless of the Weber BBQ you choose, the investment is one your tastebuds will appreciate. 
What Makes Weber a Leading BBQ Brand?
1. It's a household name 
Now being around for over half a century, Weber has successfully built a strong and trusted reputation for high quality, durable and dependable BBQs. Along with Weber's success has come a large following. So much so the word BBQ has been reclaimed as Weber by grilling fans! This speaks volumes to Weber's global popularity, accessibility and exceptional quality. With a Weber to assist your grilling, you can feel assured you have the best. 
2. Weber's customers come first 
We have some of the best weather to enjoy a weekend BBQ in Australia, so why not invest in a Weber grill and cultivate your cooking skills this summer? In the grilling world, a Weber indicates you're invested in the quality and deliciousness of your food! 
Luckily, Weber places its customers first and wants to ensure all their customers are satisfied with their products' quality and durability. Therefore, all Weber products come with a guarantee of up to 10 years, so Weber customers can be assured that your investment is cared for, so you don't have to worry about the repair bills in the rare instance something might go wrong. With Weber, it's all about flavour, friends and family, so you can feel comfortable. Weber cares about your experience even after your purchase. 
3. Webers are versatile and made to last
Grilling is a great way to experiment with different spices, flavours and recipes, and luckily with a Weber BBQ, you can cook more than just a snag on the barbie. From pizzas, cakes, and Sunday roasts, the possibilities are endless with what you can cook with a Weber on your side. Did we mention you can also cook cakes on the Weber? 
A Weber is more than just a BBQ. It allows you to leave the confines of four walls and get outside to create everlasting memories and dishes with the family. So take the kitchen outside this summer and enjoy fun in the sun! Being made from the highest quality materials and adhering to the greatest specifications, Webers are true and tested to be safe, strong and sturdy.
4. Which Weber is Right for Me? 
With a range of Weber's to choose from, it can be challenging to know which is the right match for you. Talk about having a lot on your plate. Luckily at Homefires, we know grilling and are here to recommend some of our favourite BBQs to complete your backyard this summer. Currently, Weber has a three-piece product offering, the Weber Q, the Weber Premium Gas and the Weber Charcoal. There's a series of varying models to different sizes and purposes with each line, so everyone can find their ideal BBQ. 
For most Aussies, you can't beat the tried and tested classic gas BBQ. As a traditional BBQ, the Weber Q range is arguably the most popular and perfect for families enjoying a part-time grill. Easy to clean (you can fit most grills in the dishwasher) and accessible, you can't go past this grill. There's something for everyone in the Weber Q range from the miniature Weber Baby Q to the Weber Family Q.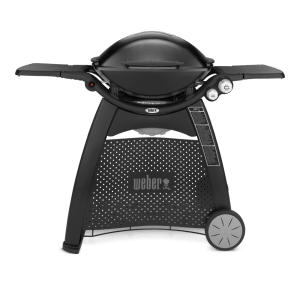 Get Your Weber From Home Fires Today
So there you have it, the history of what makes Weber a great amongst grills! No matter the style of Weber you choose, having a Weber in your backyard is like having a mini kitchen at your disposal, so you don't get to miss out on the barbeque fun at your next backyard party! If you want to taste the Weber flavour for yourself, Home Fires offers a range of Weber products to suit everyone. 
Need help with choosing the right BBQ for you? Our friendly and BBQ-savvy team are here to help. Simply contact Home Fires today for more advice on choosing the best BBQ for your needs. There's no better time to get your hands on a Weber with summer finally here. Just remember to invite us to your next Summer cookout!