Do you wish you could spend your nights socialising in your backyard even when the weather is cold? Maybe your patio or outdoor area is looking a little plain, and you feel like it's missing a certain something? Outdoor fireplaces allow you to spend more time under the starry sky, your favourite drink in hand, chatting and laughing with family or friends. They bring greater warmth and ambience to your backyard, whether having al fresco parties or unwinding after a long day.
Outdoor fireplaces are growing more popular. One of the big outdoor living trends of 2023 is homeowners creating more harmonious outside spaces with the right fireplaces, fire pits and lighting. But it's not just setting the mood or keeping up with trends motivating homeowners to embrace the benefits of outdoor fireplaces. As you're about to find out, there are many advantages to investing in outdoor fireplaces in Australia. So what are these benefits, and how much do outdoor fireplaces cost?
Well, there are a lot of options to choose from. And while the benefits are both practical and emotional, the bottom line is that an outdoor fireplace will improve the experience of your home. Home Fires can help you select the right one so that in no time at all, you can kick back and enjoy.

Outdoor Fireplaces
When you think of a fireplace, it's common to picture it indoors, usually in a living room. Maybe you have fond memories of spending cold winters huddling around your old fireplace with your family or roasting marshmallows on its open flame.
Outdoor fireplaces are very similar to the indoor variety. They have fireboxes and chimneys, run on wood, gas or ethanol and come in various shapes, sizes and styles. You can build your own with materials like cinder blocks, manufactured veneer stones, and various tools, but it's a big project. It's easier to pick up one of the available outdoor fireplaces in Australia at great prices. So how much do outdoor fireplaces cost, and why should you get one?
Benefits of Outdoor Fireplaces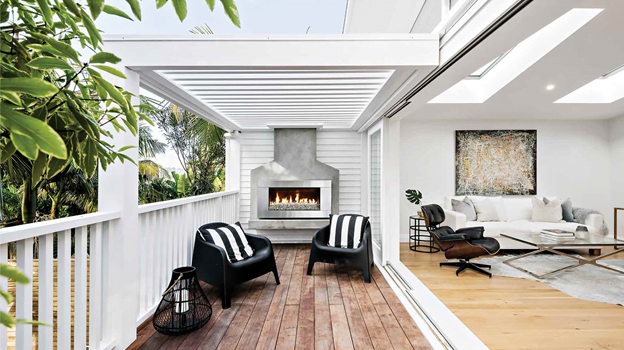 Outdoor fireplaces in Australia have the following benefits:
You can enjoy the outdoors for longer
Investing in an outdoor fireplace means that even when the season changes and the weather turns colder, you can continue to enjoy your backyard with your family and friends. When the temperature drops, all it takes to be winter-ready is  a small number of changes for your comfort.
They're perfect for parties
Tired of having to shuffle the party indoors when the temperature cools down? Outdoor fireplaces provide a comfortable enough environment for your guests to allow good times to continue into the night.
They provide a focal point for your outdoor entertaining area
When you spend a winter's night in your living room, your eyes are naturally drawn to your fireplace. It's an aesthetically pleasing point of interest that stands out, adding depth to the room and providing a comforting sight.
They set the mood
Fireplaces, indoor and outdoor, are a powerful way to add to a space's ambience and make it feel more welcoming. If you aim to create a comfortable area where you, your family or your guests can unwind, the rustic down-to-earth charm of a fireplace accomplishes it.
They look good in your backyard
Sometimes, there's nothing wrong with appreciating purely aesthetic value, and outdoor fireplaces have a sophisticated look that never goes out of style and that your friends will admire.
They're quicker to install than indoor fireplaces, with no vents required
Outdoor fireplaces don't require venting, which means not only are they quicker and simpler to install, but you won't have a flue getting in the way of your outdoor views.
They raise the value of your property
If you plan to sell at some point in the future, an outdoor fireplace or fire pit can raise the sale value of your home and increase the speed of the sale. Agents and potential buyers love the value they create now and into the future.
They keep mosquitoes away
Smoke is an affordable method for repelling mosquitos and other pests that bite and spread disease. Spending time outdoors is certainly much better when you can keep annoying and potentially dangerous insects away. Smoke prevents mosquitos from taking in enough oxygen, so naturally, they tend to avoid it. Smoke also helps mask human bodily odours that lure mosquitoes. While it's not a fool-proof method of pest control, an outdoor fireplace can help to deter pests from bothering you.
They give you a greater sense of privacy
An outdoor fireplace can also double as a wall, giving you more privacy from neighbours as you sit outdoors and enjoy the peace and quiet.
Where to Buy Outdoor Fireplaces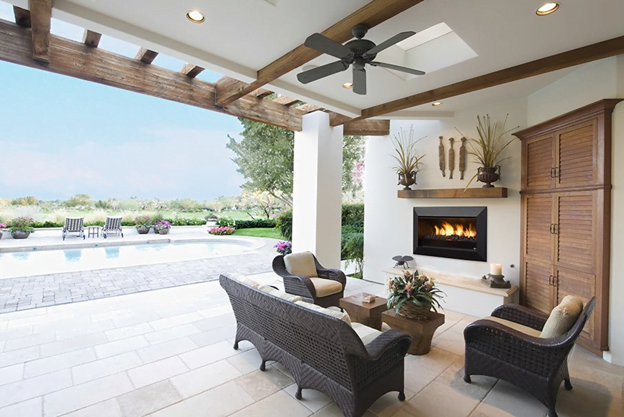 If you're ready to buy an outdoor fireplace, why not look at the selection of outdoor fireplaces from a company that has been trusted for 40+ years and offers the best prices guaranteed plus 24 months interest-free?
Home Fires has a fireplace to help every household get the most out of their outdoor entertaining area. How much do outdoor fireplaces cost? While the cost varies, Home Fires won't be beaten on price, and there are so many different types to choose from you're sure to find something within your budget.
The versatile Real Flame Exuro Gas Fireplace suits various locations and weather environments. Because it doesn't have a flue, you can install it pretty much anywhere.
The Escea EF5000 Outdoor Gas Fireplace is also easy to use and suitable for all locations. You can control it with the push of a button, it doesn't need a flue, and it has a Zero Clearance rating, meaning it's ready to install into any timber-framed or masonry cavity.
For a simple and affordable way to bring some extra warmth into your backyard and do some cooking, check out our FireArt Australia 100cm Mild Steel Fire Pit.
We're here to provide the right fireplace for you at a price you'll be happy with. If you have any questions, get in touch with Home Fires.