Fireplaces, fire pits, and heaters are common ways to stay warm in winter, but they're not the only ways. There's another method you may not have suspected: ceiling fans.
It's not what they're best known for, but most modern ceiling fans have a 'winter mode' that sets their blades spinning in the opposite direction and circulates warm air around the space.
If this is news to you, you're not alone. Most homeowners don't even know the switch exists.  The surprise that so many people feel when discovering it for the first time is so widespread that it has made the news on multiple occasions.
But if you've been looking for a low-cost way to keep warm in winter, it's good news for you.
If you don't have a ceiling fan, maybe it's time to consider getting one. Ceiling fans are energy-efficient, functional, and stylish and make a house feel more comfortable and welcoming.
Home Fires have a wide range of ceiling fans to choose from: including ceiling fans with winter mode from modern brands with excellent quality, like Martec, Mercator, and Hunter Pacific.
So, how do you change your ceiling fan's direction for winter? What are the benefits of embracing winter mode and, for that matter, the benefits of buying Home Fires fans?
What is Winter Mode?
If you're like most people, you're used to using your ceiling fan in summer mode. To find out which mode it's currently in, all you need to do is stand beneath it and watch the blades turn. If the blades are turning counterclockwise (right to left), it creates a downdraft, leading to a cool breeze that takes the edge off the summer heat. That's what we commonly call summer mode.
If the blades are turning clockwise (left to right), you're in winter mode. This creates an updraft that circulates warm air around the room. Winter mode is generally on a low setting because when you're trying to stay warm, the last thing you want is the breezy sensation associated with summer mode.
How To Turn On Winter Mode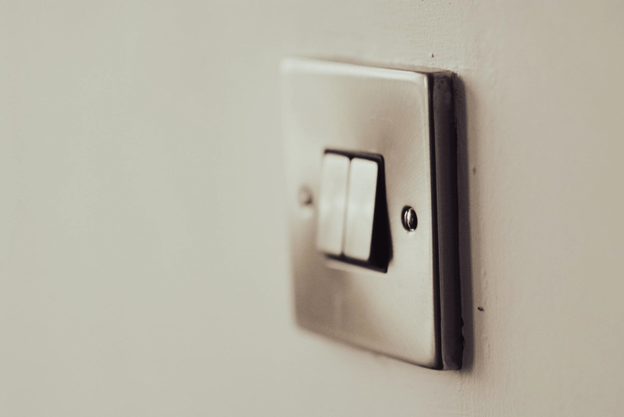 Changing the setting of your ceiling fan is easy. When in doubt, consult your instruction manual or an expert. But in general, there are two ways to do it:
Change the setting using a switch on the ceiling fan itself. On some fans, there's a clearly labelled switch on the motor housing unit that you can flick from a 'summer' to a 'winter' setting.

Adjust the setting using the remote control that came with the ceiling fan. On more recent ceiling fans, the switch is more likely to be on this remote control than on the fan itself.
Engaging a ceiling fan's winter mode setting is useful in all kinds of environments but especially beneficial in rooms with very high ceilings, where the warm air tends to rise right to the top.
Winter mode may be a pleasant discovery, but is it better for you and your family than the many other ways of keeping warm? Are there any special reasons to change your ceiling fan's direction this winter?
Benefits of Winter Mode
Switching to winter mode does more than just keep you cool. Other advantages of flicking on this under-utilised part of your fan include:
A potentially major reduction on your power bills as you use your air conditioner less than usual.

Fans are a lot less expensive than heaters to run. As counterintuitive as it may sound, running a fan in winter mode and a heater at the same time can actually be cheaper than running the heater by itself. The main reason is that the heater doesn't have to work as hard.

Winter mode is easy to use. All it takes is the press of a button or the flick of a switch, which makes it a much easier process than installing something new in your house.

The majority of new ceiling fans come with winter mode, and modern fans with winter mode tend to be high-quality.

Winter mode is safe. Unlike a fireplace or heater, you don't have to put a guard around a ceiling fan to stop a child from wandering into it.

Ceiling fans evenly distribute the air that's in the room, warming the house throughout.
Get Ceiling Fans at Home Fires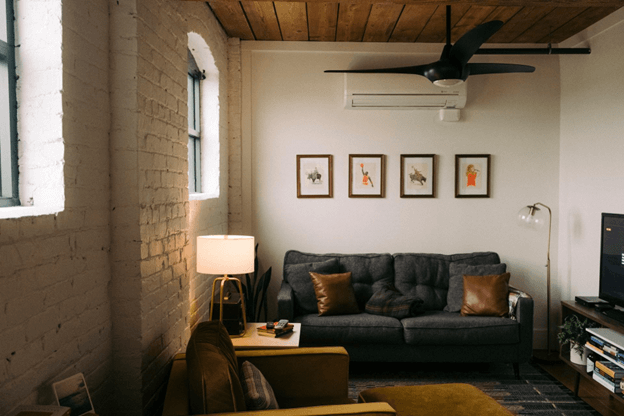 Using ceiling fans in winter mode is an easy and affordable way to warm your home in winter. But a lot of the convenience of a ceiling fan lies in the fact that it's a solid year-round investment that keeps you cool in the hotter months and warm when the temperature drops.  
If you're wondering whether or not you should buy a ceiling fan, looking at Home Fires' ceiling fan selection may help convince you. We have ceiling fans from top brands like Martec, Mercator, and Hunter Pacific to help keep you comfortable all year round.
For energy efficiency and convenience in general, you can buy one of our ceiling fans with lights. Ceiling fans with lights can simultaneously cool down and brighten up any room. Many of our ceiling fans use LED lights, which are a lot more energy efficient than traditional bulbs. They also feature adjustable lighting settings so you can set the scene you want.
If you're on a tight budget, Home Fires have a range of clearance ceiling fans that feature the same high-quality brands at more affordable prices.
Sydney's leading fireplace retailer, Home Fires, has been supplying a range of heating and electrical goods to the people of NSW for more than 40 years. On top of ceiling fans, we can also supply heaters, fireplaces, barbecues, smokers, outdoor kitchens, outdoor furniture, and more. We can take care of the supply, the installation, and the servicing, providing you with expert advice, 24 months interest-free and the best prices guaranteed.
You can take your pick from all the major brands under one roof, brands like Weber, Rinnai, Regency, Beef Eater, Nectre, Martec, Fire By Escea, and more.
For help finding the best ceiling fans with winter mode or for any other questions, contact the Home Fires team.