There's something euphoric about firing up the grill on a warm, sunny afternoon and cooking your favourite meats to perfection. 
Whether you're an experienced grill master or just starting your journey into the world of barbecue, one essential step that often gets overlooked is the proper seasoning of your BBQ plate.
Unlike what you may think, seasoning isn't just about adding flavour to your food. It's the secret to creating a non-stick, rust-resistant surface that ensures your grilling ventures are always delicious and hassle-free.
Why Season New BBQ Plates?
If you're buying a new BBQ or bringing an old one back to life, why is it important to season the hot plates?
Seasoning a new BBQ plate for the first time is an essential step in prolonging the life of your BBQ and enjoying delicious meals. If you don't prepare a hotplate, many things can go wrong, such as rust forming and food sticking. It could get so bad that the entire hot plate may need replacing, and nobody wants that. 
Although it's essential to season a BBQ plate before its first use, it's also recommended to regularly season it to prolong your BBQ's life. Rust is the most common culprit for ruined BBQs, so regular oiling and heating are necessary. 
Steps For Seasoning A New BBQ Plate
If you've bought a brand new BBQ, the first thing you need to do before cooking is seasoning the hot plate. 
So, what is seasoning when it comes to BBQ hot plates? Seasoning is essentially adding and heating oil to a grill or hotplate. 
There are many benefits to seasoning a new BBQ plate, including rust prevention, creating a non-stick surface, providing even heat distribution and adding flavour to food. 
Here are the steps on how to season a BBQ plate.
Step 1: Clean It 
The first step in new BBQ plate preparation is cleaning. Using warm water and a small amount of dishwashing liquid, clean your hotplates with a sponge or soft brush (don't use steel wool).
Cleaning your hotplate ensures you have a clean surface for cooking.
Step 2: Rinse and Dry 
Once you've cleaned your hotplate, it's time to rinse and dry. Rinse your BBQ plate with clean water and dry it thoroughly. If your hotplate is still wet, it makes it difficult to apply oil. 
To speed up the drying process, you can use paper towels. If you keep seeing black on the paper towels, repeat the cleaning process as you want to rid the hotplate of all debris/dust accumulated during the manufacturing process.
Step 3: Apply Oil 
The type of oil that is used in the seasoning process will have a big impact on the final result. Therefore, it's best to use a high-temperature oil, such as vegetable or canola oil. 
You only need to use a small amount of oil, but make sure it's spread around the hotplate evenly. 
Step 4: Heat Oil and Wipe Off
The fourth and final step in how to season a BBQ plate involves heating the oil and wiping it off.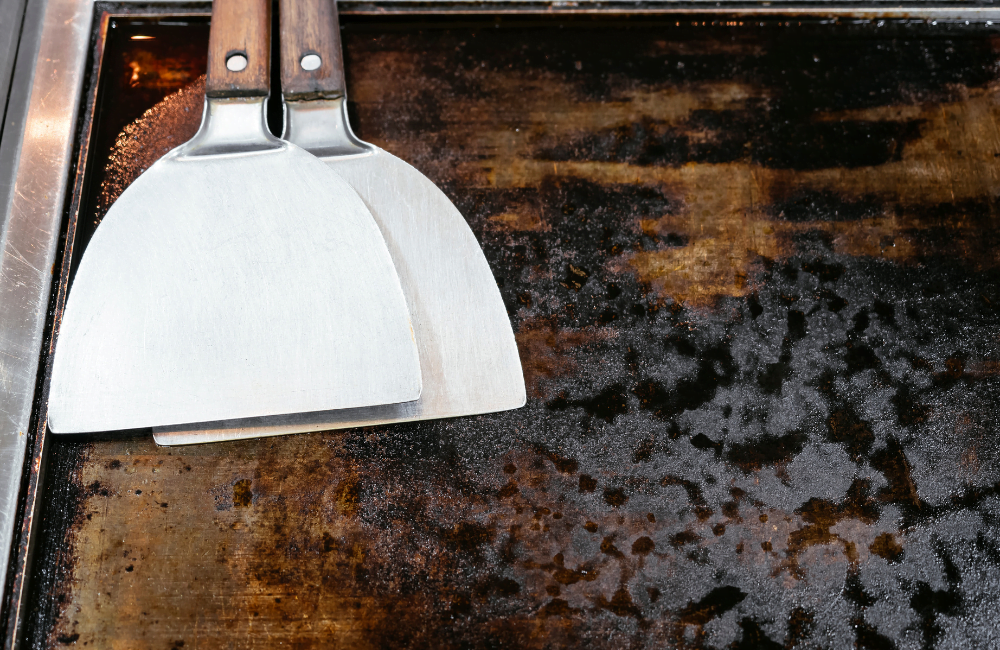 Bring the temperature of your barbecue to just before the smoke point of the oil you're using (usually around the 180°C mark). Cook the vegetable or canola oil for around 30 minutes with the lid open. During this time, the oil will bond with the metal to create a non-stick surface and provide a protective layer against rust. 
After 30 minutes, turn off the heat and let the hotplate cool to room temperature. Once it has, you can wipe off the oil with a paper towel or rag.
Seasoning an Old BBQ
If you're thinking of pulling an old BBQ out of your shed and firing it up this summer, you'll have to season it again. 
This process is actually called "re-seasoning" and follows almost the same steps as new BBQ plate preparation. However, the first step of cleaning requires more effort as old barbecues can be covered in lots of layers of carbon emitted from smoke. 
Use a paper towel or old rag to clear away the dirt before starting the seasoning process. 
How To Maintain The Seasoned BBQ Plate
Now that you know how to prepare a BBQ for the first time, what are the steps to maintaining your seasoned BBQ plate?
Step 1: Cleaning It
After cooking a delicious meal on your BBQ, scrape loose food particles from the hotplate. 
Do not wash the hotplate with water or soapy water, as it will dissolve the grease and encourage rust to form. 
Step 2: Apply Oil 
Once all the food has been scraped off, apply a layer of cooking oil and spread it across the hot plate (alternatively, you can do this before you cook on the BBQ next). 
Next time you use the BBQ, pre-heat the hotplate and burn the oil off, then you're ready to start cooking. 
Buy BBQs and Accessories at Home Fires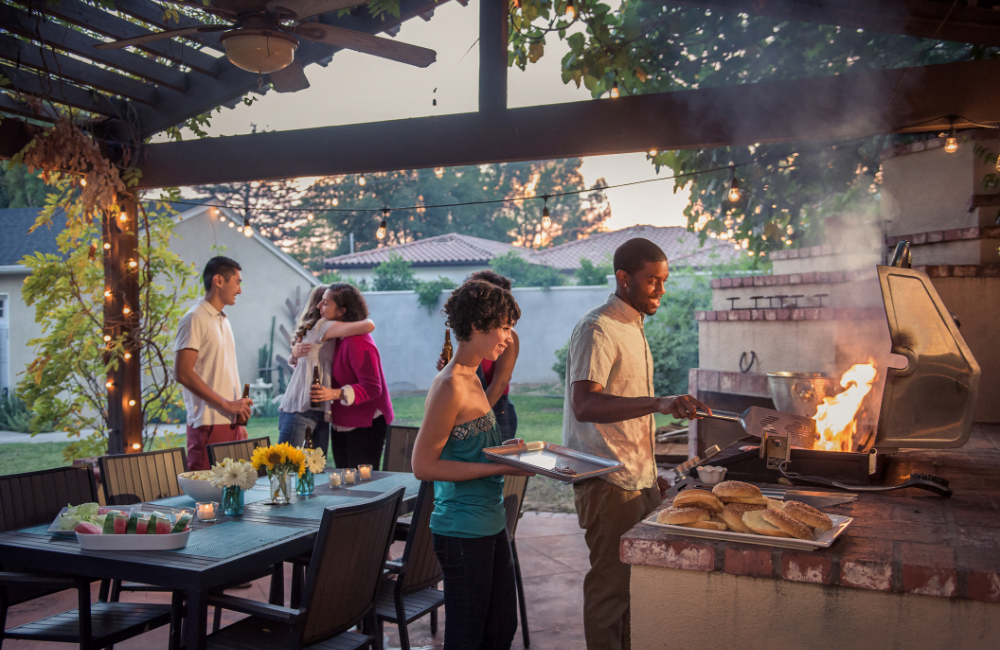 With summer just around the corner, now is the perfect time to buy a new BBQ!
Whether you're a fan of Weber BBQs or are looking to get a built-in BBQ, we have a wide range to choose from at Home Fires. We also have plenty of accessories to choose from to make your grilling experience a great one!
If you're ready to improve your grilling game this summer, head in-store or contact us to learn more about the barbecues we have on offer.