Nothing warms a home (quite literally) like a high-quality gas or wood fireplace. As winter is well and truly upon us, you may be on the market for a new heating system. If you've been really feeling the chill from our eccentric weather as of late, finding the right heater for you is best done sooner rather than later, before the mercury drops even lower. Many free-standing heaters provide excellent services inside and outside the home. However, sometimes their structure can invade a little more space than you'd prefer. Or sometimes, it's just not the look you're going for, and that's fine. If you're looking for something that flows a bit more seamlessly with the design of your home, you may want to consider an inbuilt fireplace.
Inbuilt gas and wood heaters are beautiful, effective and efficient. Not only do they do an excellent job of warming your home, but they instantly add that 'wow-factor' to a space. Unlike a split system air conditioner or conventional space heater, they actually feel integrated into your home's overall interior design. Not only are they very stylish and suave, but they save massively on space. As inbuilt fireplaces tuck nicely into walls, you don't need to clear furniture for them. This means you can fill your living area with more people, plants, sofas, dogs… whatever you prefer!
You might still be a little apprehensive about making such a permanent installation in your home. Don't worry, it's not as scary as you think. Here are some benefits to take into account if you're considering a built in fireplace.
The Benefits of Inbuilt Heaters
Undeniably, inbuilt heaters are a little more pricey, take a little bit more effort to install, and of course, can't be moved (as easily as your old space heater, anyway). However, inbuilts are an investment; they come with some advantages. Not only are they extremely effective in warming your home, but they add a lot of value to your home in many ways.
A Statement Piece
Inbuilt fireplaces are a visual statement and add elegance to your home. This makes them perfect centerpieces for entertaining and having guests over. They add ambience to a space, making it ideal for hosting the perfect soiree. A lounge is more comfortable for guests with a little warmth and the soft crackle of fire. A little music and some nibblies and you're on your way to hosting the best dinner parties.
Value-Adding Feature
If you're a home-owner, it's important to consider the resale value of your home, even if that's a very distant concept to you right now. Renovations are a great way to increase the value of your home; plus, they are allow the perfect opportunity to add a fireplace. Adding an inbuilt fireplace to your home can make it appear more luxurious, increasing its appeal to buyers. It also helps real estate agents work their magic and sell the dream to prospective buyers.
Making a House a Home
Disregarding the selling and entertainment potentials of an inbuilt fireplace, ultimately, they are just super cozy and comforting. They add warmth and luminosity to an area. The soft amber and orange flames provide the most flattering candescence, making your living space feel extremely snug and homely. What beats getting warm and comfy near the soft crackling of a fire?
Gas vs Wood
The greatest decision you'll face in constructing your dream fireplace ultimately lies in whether you're looking to get gas or wood heating. Both are excellent sources of heat and comfort, and each contain sophistication in their design. So what does it come down to? Which is best for you?
Wood
If you've always envisioned your home crackling with warmth and filled with the comforting perfume of burning wood, then it's clear that the wood fireplace is the best option for you. Another positive is that you're using a renewable resource, as wood can be sustainably sourced. There are some things you will need to consider beforehand though.
Sourcing Wood
Sourcing wood in not as onerous a task as it once was. In fact, firewood is quite accessible nowadays. On top of there being firewood specialist stores in close-by areas, firewood can also be found in many hardware stores, and even petrol stations. But if you're old fashioned and know what you're doing, than you know the best, free firewood is right outside. This is the most cost-effective method, particularly in rural areas. Buying from a specialist can be a little more expensive, but the wood provided is usually sustainably forested and they also usually deliver – a double win!
Fireplace Maintenance
This remains a slightly onerous task. Wood fireplaces are undeniably a hot commodity, but they also prove a little more high maintenance than the other fireplace types. Wood fireplaces need to be cleaned after use, when they are cool. Ashes need to be swept away as they accumulate inside the fireplace and build up. Not to mention, sometimes firewood kept inside the home can leave small wood chips and debris around. So, if you can justify a little mess for the 'wow-factor' of the wood fireplace, than it sounds like your decision already has been made!
Cost
Initially, a wood fireplace is going to cost you quite a bit. However, it is relatively cheap to run over winter, depending on your heating needs and where you source your firewood. The advantage is, you don't waste any electricity or gas, and you only use as much wood as you need. If you're heating a medium space rather than a large one, you may not need as much firewood. Therefore, you can make a batch of wood last longer, saving you money.
Gas
Gas is a very safe and reliable option for heating. Using your home's already existing natural gas connection or LPG, an inbuilt gas fireplace is easily and safely installed, and ready to use right away. The best part of owning a gas fireplace is the lack of mess and maintenance needed. The extra convenience means you can just set it and relax. Some also come with the decorative display of burning logs, giving you the feeling of a wood-burning fire without the effort. Again, there are some things you should consider before you make a decision.
Access to Natural Gas
You will need to ensure your house is equipped with a natural gas connection for this to be a viable option for you. If as far as you're aware you don't have a natural gas connection, it's not the end of the world. It is still possible to connect your home to natural gas. If natural gas is definitely not an option, then don't freak out. Most fireplaces will also be able to connect to LPG. It's just a matter of preference and which product you are interested in.
Cost
Much like wood fireplaces, gas fireplaces are a bit costly upfront. However, in the long-run, they are affordable to use as natural gas is quite cheap and doesn't often surge in price.
Still stuck on which type of fireplace to go with? This article is a great source for comparing gas and wood inbuilt and free-standing heaters.>
The Best of The Best
We're hoping that's helped you narrow down your pick when it comes down to the type of fireplace you're looking to obtain. To further help narrow down your decision, we've compiled a list of the creme of the crop for value and quality when it comes to wood and gas fireplaces. The following are the best of the best when it comes to inbuilt heaters.
The Regency Bellerive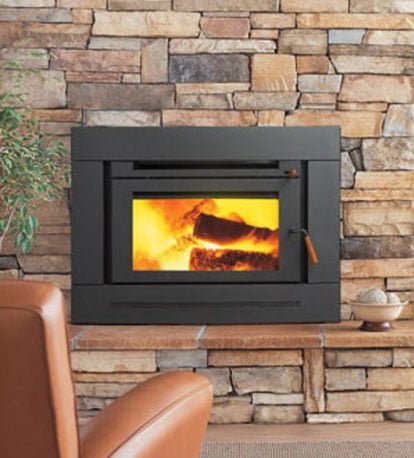 The Regency Bellerive is the perfect family-sized inbuilt wood fireplace. This item can be built into a wall, or installed to replace an existing fireplace. This modern fireplace offers excellent efficiency in heating as it is designed to prevent heat escaping through the chimney, meaning all the warmth stays in your home. This unit is particularly effective in heating large spaces and is most suitable for medium to large living rooms. You can also rest assured that all Regency products are created to satisfy Australian clean air requirements and emission standards. If that doesn't make you feel warm on the inside, this heater sure will!
The Regency GF900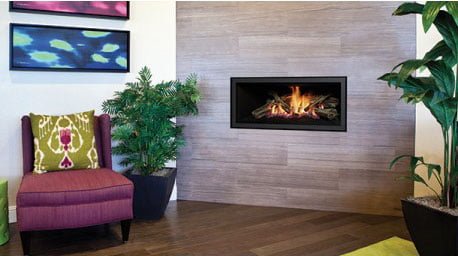 Within the same make, the Regency GF900 is a gas model inbuilt fireplace designed for any size space. The sleek and modern appearance of this fireplace is made to function as decor and add luxury to your home. The Regency GF900 also comes with a fire adjustment feature to control the temperature of your home and ensure the comfort of all your guests and family.
LOPI 4415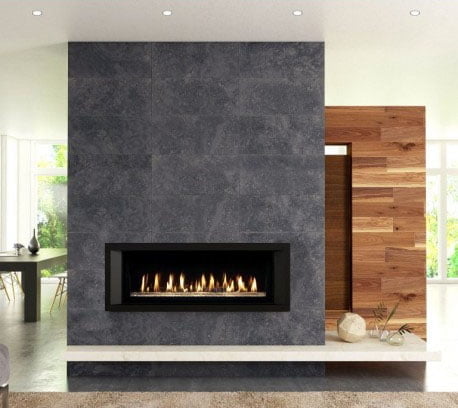 The coolest (or should be say warmest?) feature of the LOPI4415 is its customisability in design. You have a selection of options to choose from in picking the glass/ base, media features, fireplace backing, and the trim of the unit. To have a browse through all the various options, check out this link.
LOPI 6015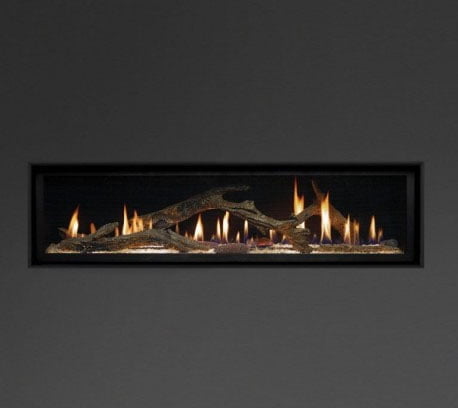 Much like the previous LOPI product, the LOPI6015 enables you to personalise your fireplace by choosing from a number of unique design features. This sleek fireplace is perfect for long walls and open spaces as it's 1550mm display can fill up any dull area easily, and add a touch of sophistication.
Escea DF960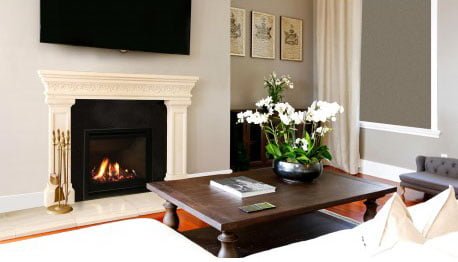 The Escea DF960 is the perfect fireplace for renovators, particular if you're looking to fill in an old cavity. The DF960 was made for easy installation into existing fireplace spaces. Don't have an old space? No worries. This inbuilt is also designed to be easily fitted into any wall, without the need for an existing cavity. This unit was clearly designed with the renovator in mind!
Regency PG36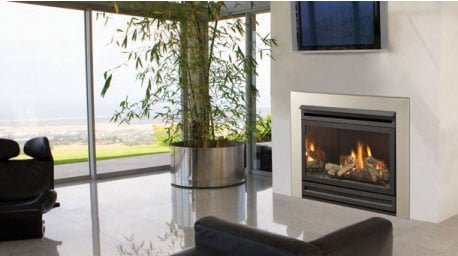 The Regency PG36 comes with a beautiful, realistic flame and adjustable control of the heating. The stylish black louvres compliment any fireplace facade and add elegance to a space. With a bunch of other features, such as remote control heating, this fireplace make gas heating even more convenient than it already is.
Escea DS1400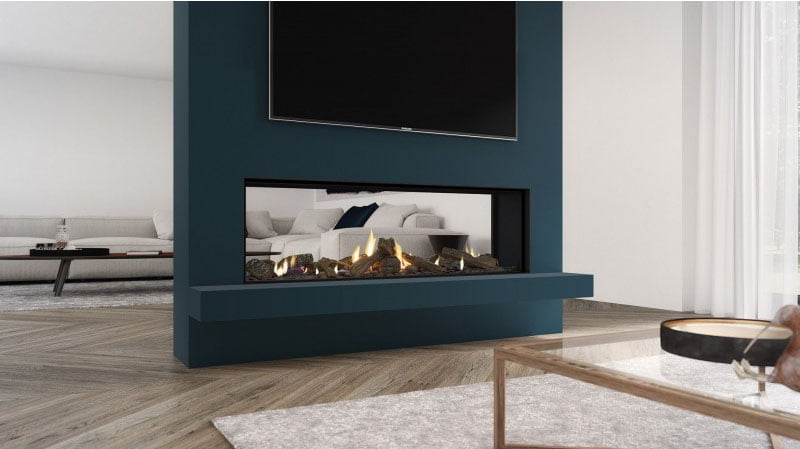 The Escea DS1400 is sophisticated, stylish and minimal. This inbuilt heater is truly frameless, integrating seamlessly into your interior design, reducing any risk of clashing with your furniture or overall aesthetic. There is also an option to have this installed one-sided or double-sided, meaning you can create this heating element a focal point of your living space but with added luxury thanks to its see-through feature.
While these are just a few of our best inbuilt heaters, we have an extensive range available on our website and in store, alternatively call us on 02 9820 5099 for expert advice!