There's no better way to welcome summer than with a classic BBQ. As an Aussie staple, a BBQ is the perfect excuse to gather together to enjoy schooners, snags and good company. Throwing an unforgettable BBQ party takes a little planning and preparation, and we have the winning formula
As the BBQ experts, we're more than happy to share! If you want to throw a backyard BBQ to remember this summer, carry on reading! The Home Fires team will cover all the essentials from how to prepare and what dishes will go down a treat to the best barbecue avid party hosts should buy
Before the BBQ
Know your budget
Before you can even start deciding on the array of food you'll be serving, you ought to consider your budget. A great BBQ can quickly rack up a bill, so it's essential to know how much you have to go towards buying food, supplies and entertainment. To begin, start by choosing a budget that works within your financial availability. From there you can decide how many people you can afford to invite.
Whilst we're here, we should also consider the space you have available at your home. If you live in an apartment, you're unlikely to invite 30+ people, so this will dictate your party budget. We know the more, the merrier, so if you're set on hosting a large party, there is a solution to navigate the high expenses of hosting large gatherings.
Whatever you plan, remember if you are planning to finance a BBQ party for many people, it will cost you some, and it's challenging to get around unless you throw a simple summer sausage sizzler. Luckily we've found a list of barbeque foods with a frugal price tag that will still satisfy the taste buds of your guests whilst also maintaining the health of your bank account.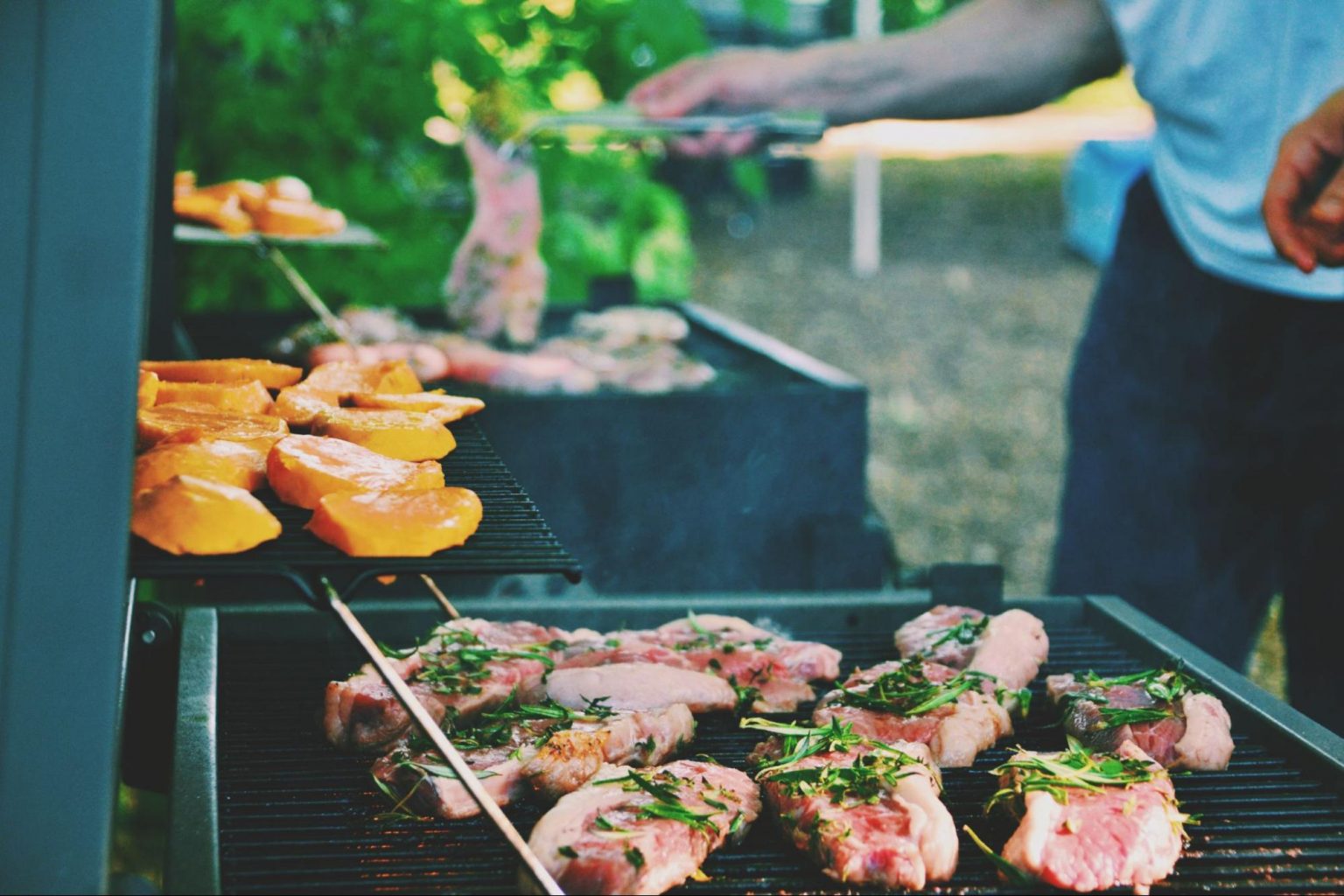 Know your guests' diet requirements and preferences
Your guests will be impressed if you ask for their dietary requirements before the event. Not only is it considerate and a sign of a great host, but it will also prevent you from purchasing foods that may not get eaten. The most common allergies in Australia are dairy, egg, fish, shellfish and wheat. So head to the supermarket and grab some gluten-free buns.
Likewise, you may have some vegetarian or vegan guests, so making sure you have some greens to grill for the herbivores will go down a treat! Unfortunately, meat substitutes are generally more expensive than fresh vegetables, but nowadays, there are accessible vegan hot dogs available on the market.
What barbeque foods should I serve?
Now that we've covered the basics of being a courteous and well-planned host, we can get onto the types of foods to cook at your outstanding BBQ. Since you've already predetermined your budget and guest preferences, you can accurately choose what kind of meat and side dishes you can serve up. Provided you have a suitable BBQ for entertaining a small army (we'll get onto that later), then you can cook a wide range of foods that are both affordable and easy to cook.
Beef burgers, sausages and skewers are BBQ classics. If you want to impress your guests, prawns and salmon give that wow factor, especially if you're going to experiment with smoking these meats. Along with these, you can incorporate a salad or two or a pasta dish. What party wouldn't be complete without dessert? A BBQ provides the best opportunity to create smores, toast some marshmallows and serve up fruit kebabs.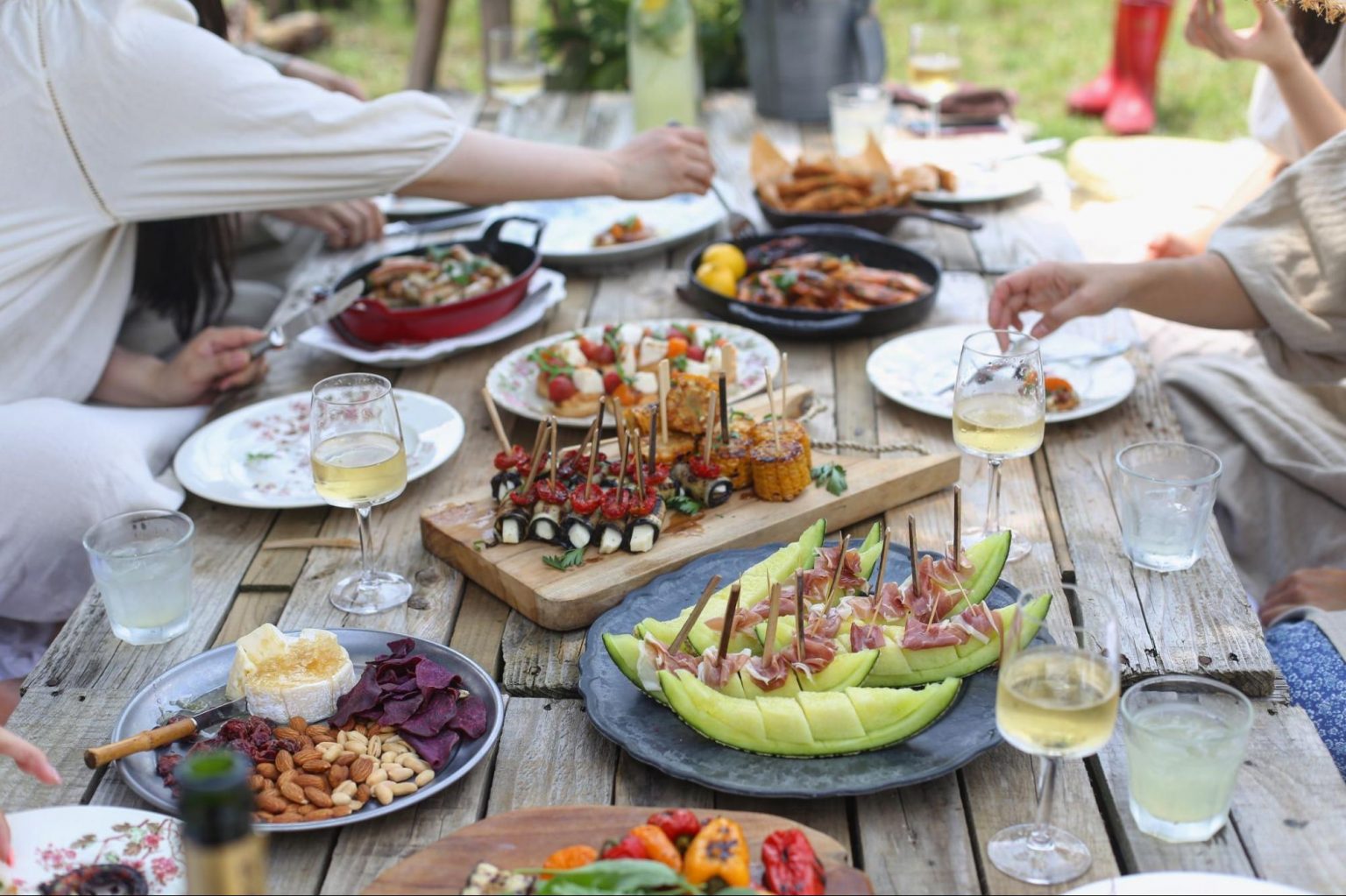 How to Host the Best BBQ Party
Time to cover the winning formula to hosting a fantastic BBQ. Following these tips will help you prepare for your event and prevent mishaps commonly made at barbecue parties
1. Prep your food before guests arrive
We can't stress this tip enough, but prepping your food before your guests arrive is essential. Not only will it save you time, but it means guests will get to eat sooner, and you'll be able to socialise more rather than being stuck in the kitchen slicing tomatoes and assembling sauces. With your food ready to go on the grill, you won't be left with hungry guests for long. The word hangry exists for a reason.
2. Make sure you have enough fuel
This is a no brainer, but it's a tip that is so easily forgotten about. The last thing you want at your BBQ party is for you to run out of coal or gas (depending on what fuel your barbecue uses). If yours is electric, then you're safe to ignore this tip. No one wants their cooking interrupted, so making sure your BBQ fuel is topped up before the party begins will reduce stress and any unexpected outings during the party.
3. Ask guests to bring a side dish
On your invitation, don't be shy to ask guests to bring a plate along. This not only helps decrease the amount of food you need to buy, but these dishes are also often entree type dishes. It's a host faux pas to let guests get peckish as they wait for the main course, so these nibbles will be a lifesaver. Food options to encourage your guests to bring can include entrees and desserts or even their signature dishes. Everyone likes to show off the one dish they cook to perfection!
4. Decorate the entertainment area
If your BBQ party is outside, it's time to deck the patio with enough seating, cushions and blankets. If children are invited, make sure the area is child-safe, and encourage parents to bring their toys and highchairs along. If you have a designated dance floor and DJ, set up some lights and speakers, and don't forget the curated Spotify playlist! Guests are bound to want to share their playlists with the group, so don't worry if you forget about that step.
If you plan on your party continuing into the night, this is your time to shine. Literally! With the help of some fairy lights, you can elevate an outdoor area. If you're hosting your BBQ on a spring night, it's still a little chilly, so if you have an outdoor fire pit or fireplace, take advantage of this by setting chairs up around it. Guests will love to gather around the fire, roast some marshmallows and catch up with friends. If you've been thinking about installing an outdoor heating system, Home Fires has an array of stunning outdoor heating options to choose from. Need help deciding? We've covered the gas vs wood fireplace in our blog!
The Best BBQ for Entertaining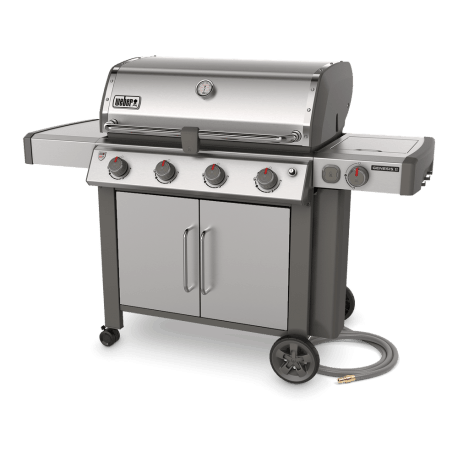 Whether you're cooking for two or a group of friends, a good BBQ can make all the difference, especially if you enjoy entertaining. There are countless models to choose from, including gas, charcoal and electric, portable, small or large.
If you're a social butterfly who likes to host large parties, you're going to need a big enough BBQ to match it. The last thing you'd want to do is invest in a BBQ that will be more of a hassle than a culinary hero. After all, making small batches isn't ideal. It'll chain you to the grill churning out batches and subsequently take longer to feed your guests.
If this resonates with you, a four-burner BBQ is the answer to your prayers. We suggest our premium gas barbecue, the Weber Genesis II S-455. This BBQ will easily provide you with enough real estate to grill large batches of burgers, sausages, and vegetables simultaneously, all whilst in style.
So there you have it, the not so secret formula to hosting the perfect BBQ party. Now that you're prepared with the knowledge, food choices and tips and tricks from the BBQ experts, we feel confident you'll have an unforgettable party. If you'd like help with finding the perfect BBQ to fit within your budget and requirements, the friendly team at Home Fires are here to help. We can also help with its installation. To learn more about our services and products, contact Home Fires today. We only ask that we get an invite to your next cookout!