When it comes to cooking meals on the smoker, the first things that spring to mind are ribs, brisket or pulled pork.
But what if we told you there was a lesser-known smoker dish waiting to be devoured? Enter macaroni and cheese on the smoker. 
While macaroni and cheese is commonly cooked on the stove, it's becoming more popular to cook on the smoker for the flavours it creates. 
This article will discuss which wood is best for smoked macaroni and cheese, the best smoker to get and steps to preparing your new favourite smoked dish. 
Get ready to enhance your smoking game and discover a flavour combination you never knew you needed, macaroni and cheese on the smoker!
Which Smoker Should I Get?
If you're new to the world of smoked foods, deciding which type of smoker to get can be challenging. 
Here is a rundown of the most common types of smokers and how they're used. 
Electric Smokers 
As one of the most popular smoker types, electric smokers are fantastic for beginners. 
Making use of wood chips, water and a heating element to produce smoke, electric smokers are easy to use. However, due to the lack of combustion of its smoke, these smokers provide a much different flavour than charcoal smokers. 
Gas Smokers
Like electric smokers, gas smokers provide consistent cooking temperatures but don't provide a lot of smokey flavour. Therefore, you must add smoker wood chips or chunks to get that delicious flavour we all know and love. 
Charcoal Smokers
Making use of coals, charcoal smokers are the smokers that require the most attention. While you can somewhat regulate the smoke and temperature, you can't just leave it unattended like gas or electric smokers. 
However, the extra attention needed to cook meals on charcoal smokers works in your favour as the flavours it creates can be unbeatable. 
While charcoal smokers aren't the best option for beginners, they are a great choice once you've mastered the craft. 
Some of our most popular smokers at Home Fires include
Ideal Type of Woods for the Best Smoked Mac & Cheese
All the different recipe ideas for a smoke can be enhanced with the type of wood chosen. Some wood can provide a more subtle smokey flavour while others can be a bit more intense. 
So, what are the ideal types of smoker wood to make this comfort food your new favourite smoked food? 
Hickory is the most popular smoking wood worldwide, producing an intense flavour perfect for beef and pork. However, due to the strong smokey flavour, it isn't the best choice for mac and cheese. 
Wood from trees that bear fruit have the lightest flavours, making them great for maci and cheese. Some of the best wood for macaroni and cheese on the smoker include: 
Apple 
Producing a mild, sweet and fruity flavour, apple wood is perfect for smoking macaroni and cheese as it doesn't overpower the traditional flavours. 
Cherry 
Cherry wood produces a smokey flavour that is stronger than apple wood. 
The mild to medium smoke that enhances the flavour of macaroni and cheese is sweet and slightly fruity, making for a delicious combination of flavours. 
Some other types of smoker wood that are commonly used for macaroni and cheese include: 
Maple 
Maple wood is a game changer for smoking cheese, perfect for your favourite comfort dish! 
Producing a subtle, sweet and mild smokey flavour, maple wood blends well with apple wood when smoking macaroni and cheese. 
Oak 
Oak is one of the most popular smoking woods. Stronger than apple wood and less intense than hickory, oak wood provides a subtle yet delicious flavour to any macaroni and cheese dish.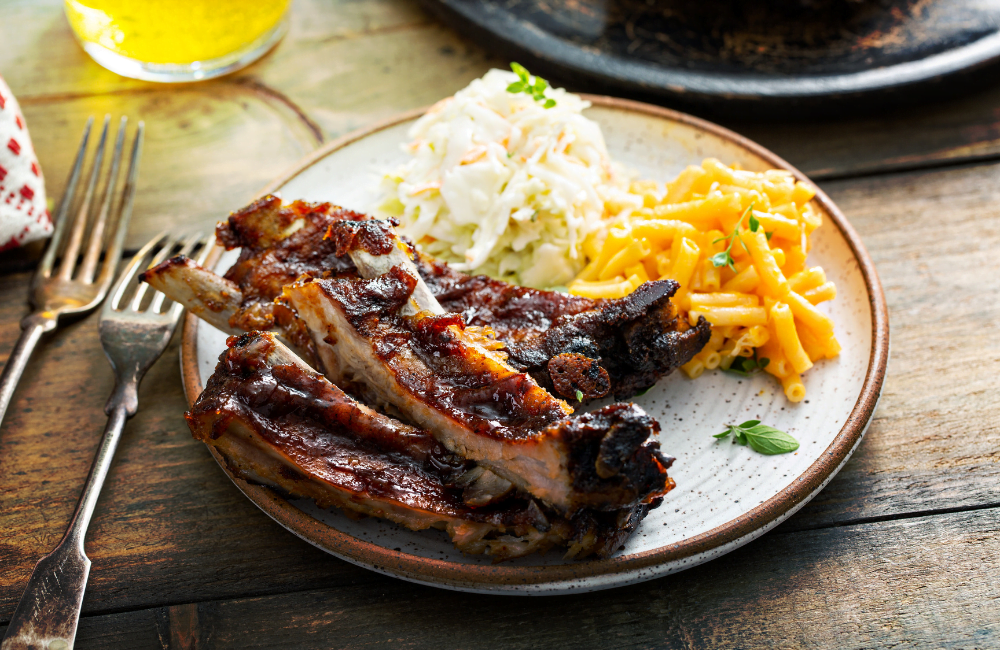 Steps to Prepare Your Mac & Cheese in the Smoker
Now that you know the best smoker and wood to get, it's time to revolutionise the way macaroni and cheese is enjoyed! 
Here are the ingredients you'll need for macaroni and cheese on the smoker: 
Dried macaroni 

Cheese (

cheddar, Gruyere and Gouda

)

Heavy cream

Whole milk 

Butter

Flour 

Salt, pepper and smoked paprika 

Panko bread crumbs 
Step 1: Cook the macaroni pasta to al dente 
Since the macaroni and cheese dish will sit on the smoker for at least an hour, the pasta has plenty of time to soften and cook. Therefore, cooking the macaroni to al dente ensures it won't be overcooked while smoking. 
Step 2: Make the roux and cheese sauce 
First, melt the butter and whisk it with the flour until smooth. Then, whisk in the whole milk and heavy cream. 
Bring the mixture to a boil, turn off the heat and stir in your shredded three cheeses. Continue mixing until the sauce is smooth and creamy. 
Step 3: Toss the pasta and sauce 
Toss the macaroni and sauce together in a pan (to be placed on the smoker) until all the pasta is coated.
Add the breadcrumbs over the top of the dish. 
Step 4: Smoke! 
Now it's time for you to smoke your macaroni and cheese.
Place the pan on the smoker, close the lid and let it smoke for one hour. 
Step 5: Enjoy
After an hour, take the dish off the smoker and serve while still warm. 
Once you've had your first taste of smoked macaroni and cheese, you'll never want to go back to the classic way.  
Get the Right Smoker at Home Fires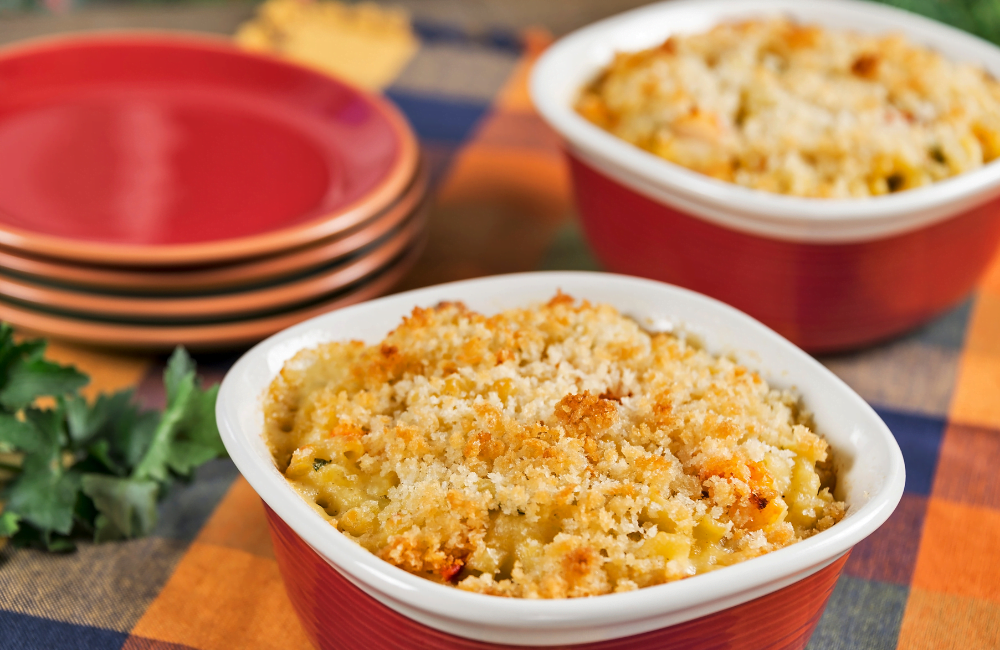 From slow-cooked ribs to succulent brisket, smokers are known for producing delicious smokey flavours for various meat dishes.
However, smokers are versatile and can bring out the flavour in many dishes.  Macaroni and cheese on the smoker brings a new twist to the BBQ side fan favourite.
If you want to see what all the fuss is about, why not buy a smoker? There are plenty of different recipe ideas for a smoker. 
From charcoal to gas and electric, we have a wide range of smokers at Home Fires. Whether you're a seasoned smoker or a rookie chef, we've got the perfect smoking solution to bring out the mac and cheese chef in you.  
Browse our range online or visit us in-store to learn more about the smokers we have on offer. Let your love for barbecuing and cheesy delights meet in a match made in grill heaven!