As the weather warms up, you may be spending more time outside and wondering how you can make the most of your backyard or patio. Perhaps you're dreaming of the right dining table and chairs to turn your outdoor living space into the ultimate backyard BBQ area or children's birthday party spot? Maybe, you just want a comfortable chaise lounge to read or sunbake on? While outdoor furniture has the power to transform even a modest al fresco area into a special place for you and your family, there's an art to buying outdoor furniture that's right for it.
Buying outdoor furniture is an easy and affordable way to gain more enjoyment out of your living space, and it comes with many positive benefits. It turns your backyard into a natural go-to spot for family get-togethers and also gives you a quiet area to chill out and connect with nature.
If you're looking for good outdoor furniture that holds its own even in Australia's unpredictable conditions, you've found it here at Home Fires. But, just like any other purchase, there are things to consider before you go shopping for outdoor furniture. Follow these tips from Home Fires to protect your outdoor furniture, guarantee yourself a great deal and enjoy your backyard this summer.
Area Scale
Choosing the right outdoor furniture starts with assessing the space. Knowing the dimensions and layout of your area will help you determine how much space you have to work with and how you can make your furniture fit. Measure your patio, deck, outdoor area etc., to see how much room you have to work with and take note of any features like pillars and posts that may restrict where you can place furniture. Also, consider the shape of the space. Whether you have a narrow front verandah or a generous gazebo to work with, you can still set up your area the way you want it. It just takes a little planning.
You can make a sketch of the space, measure its dimensions and write them down on the illustration to give you a point of reference when you go to buy outdoor furniture.
Pay Attention to the Climate
It's important to consider what the weather is like in your area in order to protect your outdoor furniture. Strong winds can blow aluminium away. Excessive heat can make wood splinter, while excessive moisture can cause it to rot. Salty air defeats iron, and plastic won't last in the hot sun.
Sydney has a sunny climate with mild winters, warm summers and a lot of beach areas. It helps to consider what the weather is usually like in your neighbourhood, where your furniture will be placed and which direction the wind will blow from.
Luckily, there are ways to protect your outdoor furniture from weather damage while still making the most of the great outdoors. You can place it under shelter, take it inside when it rains or purchase waterproof cushion covers.
It's a good idea to choose materials that are resistant to fading and damage from moisture, as well as easy to clean and look after.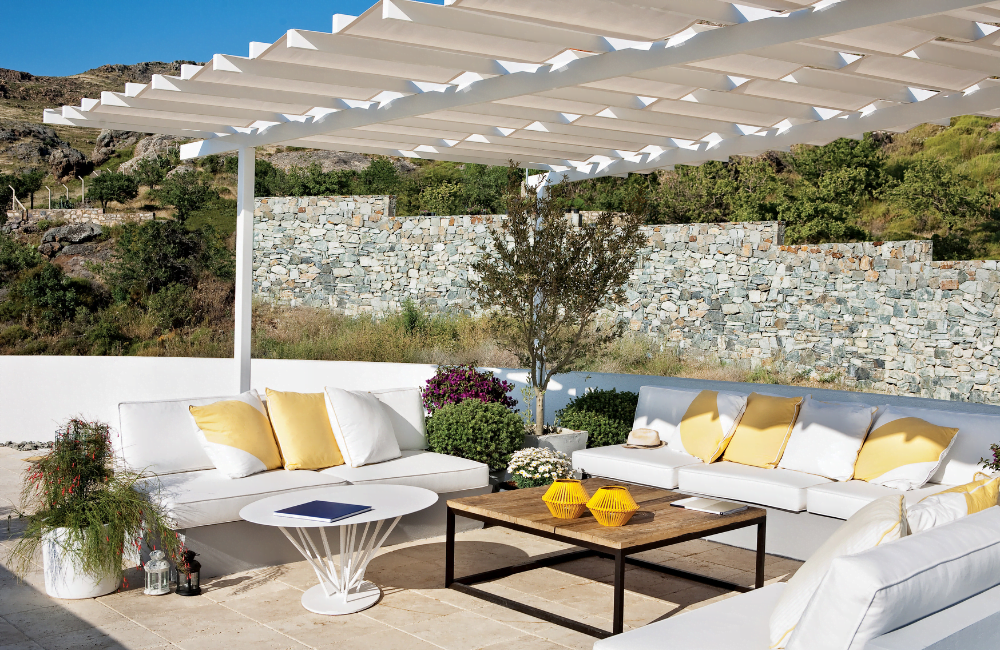 How Much You're Willing to Spend
It's important to know how much you can afford to pay. Outdoor furniture doesn't have to be expensive, but if you settle for something too cheap, you may end up with furniture that fades or falls apart long before its time. Luckily, there are always bargains around, and it's possible to revamp your outdoor area without going broke.
Shopping with Home Fires is a great way to save money on outdoor furniture without having to compromise on quality. Our Home Fires value promise means that we won't be beaten on price.
Choose Your Colours Wisely
Your outdoor area is part of your home, and there's no reason you shouldn't extend your existing colour palette to it. After all, you and your family will have to look at it every day, and it could well be the first thing your guests notice.
While there are no colours you need to avoid entirely, there are issues to be aware of when choosing your colours and combinations. White has a bright and minimalistic look but is vulnerable to rainfall and dust. Too many bright colours can cause clashing, but one dominant bright colour echoing a colour from the garden can look stunning. Darker colours can run the risk of disappearing into leafy backgrounds. Neutral tones like grey and beige plus earthy colours like greens, blues and tans are easy maintenance, keep the space cooler by reflecting the sunlight and still have a chic contemporary appearance.
Buy Outdoor Furniture at Home Fires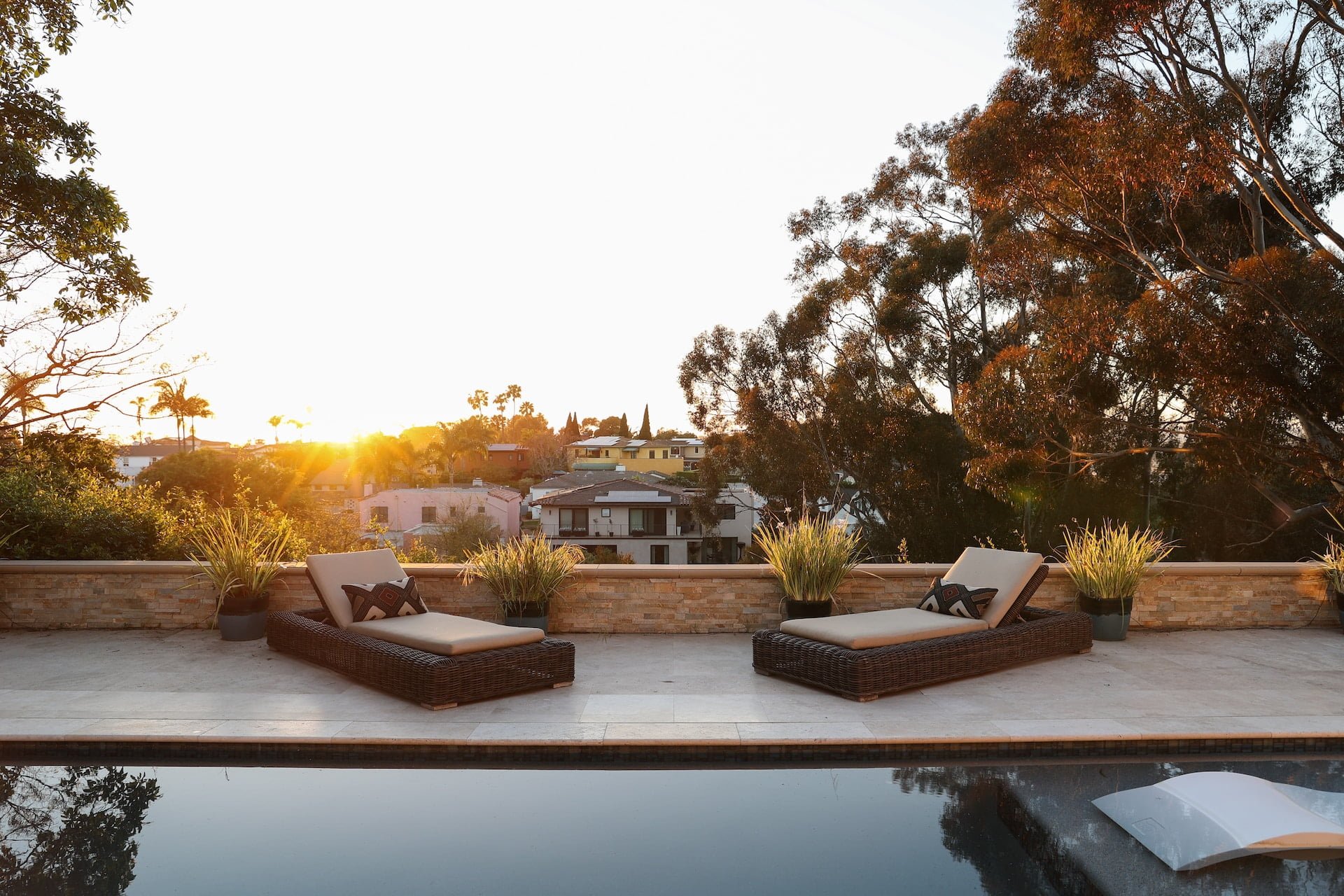 As Sydney's leading BBQ and fireplace specialist, Home Fires knows all about quality time with your family and creating a cosy environment. For more than 40 years, we've been a trusted name in wood, gas and electric fireplaces, helping you turn your house into a warm and welcoming family home. Our trusted staff takes the same friendly and caring approach when providing you with good outdoor furniture.
Our full range of outdoor furniture includes a selection of comfortable dining chairs in various colours and styles from popular brands like Shelta. Take your pick from single chairs that are perfect for adding to existing set-ups all the way to seven-piece matching dining sets. Kick back and relax with a piece or two from our outdoor lounge furniture selection, which includes outdoor chaise lounges, bench seats and day beds.
If you love to cook outdoors and are hungry for something a little more exciting than just the standard BBQ set-up, you'll love our outdoor kitchen collection. Products in this exciting line-up range from complete al fresco kitchens to accessories like bar fridges and sink modules. From top-of-the-line brands like Beefeater, Gasmate and Masport, you can expect high-grade cooking facilities, quartz zone worktops and spacious designs made for cooking in comfort when you buy outdoor furniture from Home Fires.
Home Fires gives you the best prices guaranteed, expert advice and 24 months interest-free. Buy outdoor furniture in Sydney through Home Fires, and you're sure to have a summer you won't forget. If you have any enquiries, contact the Home Fires team.