Fireplaces not only keep you warm in winter, but they also help make your house feel more like a home. Gathering by a crackling flame stirs something very primal within and also evokes nostalgic, comforting memories of winter's past and simple times. There are a few things to consider when choosing the right fireplace: what it runs on, how it looks, and where it best fits in your house. Then there's the all-important question: what sort of budget are you working with?
Here's some good news: you can find exceptional-quality fireplaces in every style and every price range. Whether you're drawn to the rustic charm and down-to-earth qualities of a wood fireplace or the convenience of electricity, there's a fireplace out there for you.
There are so many benefits to adding a fireplace to your home: a reliable heat source, reduced power bills, a higher resale value and a place to gather and make memories among them. Which fireplace is best for your tastes, your expectations, and your budget? Here are some suggestions.
Different Types of Fireplaces
There are many types of fireplaces: indoor and outdoor, stoves, inserts and fire pits. You'll find most fireplaces run on one of three main fuel sources. A wood fireplace is the most traditional variety, burning logs and kindling and warming the house with radiant heating. An electric fireplace is an easy, low-maintenance option that takes up very little space. All you have to do is plug it in. A gas fireplace offers the vivid look of natural flames but with portable, easy-to-install, push-of-a-button convenience.
Each one has its benefits. And whether you're on a tight budget or can afford to spend a little more lavishly, Home Fires has a model fireplace to suit your living situation. Enjoy your winter in style, and remember to stay safe with your family.
Low
With a radiant-style of heater with up to 150m2 capacity and a 6mm steel firebox, this wood fireplace is perfect for homes with lots of open space.
This beautifully designed North American-style pot belly stove is both elaborate and traditional. With its strong black cast iron finish, it brings not only warmth to medium-sized homes but a striking sense of style.
Medium
Australian-made and owned Nectre fireplaces have held a reputation for quality warmth and timeless style since 1978. The MEGA Wood Heater has been designed for maximum effect on even the coldest winter days, with a massive heating capacity of up to 340m2.
The Clean Air brand is built to handle Australian winters and produces lower emissions, making for a warmer, more environmentally-friendly option than your average fireplace. This small, slow-combustion wood fireplace manages to pack a lot of power into its small body, heating a house up to 200m².
High
The F 520 captures the look and feel of a campfire in your living room and, with its panoramic view, lets you enjoy the flicker of the flames from three sides. Special glass coating keeps the screen clean, and a built-in wood stacker makes fuel storage simple.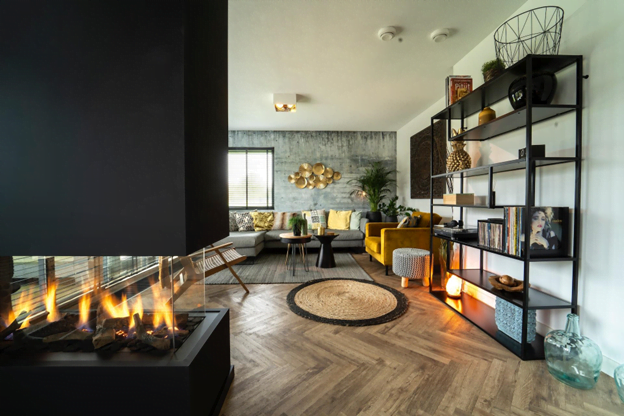 Low
This budget-friendly gas fireplace offers powerful radiant and convection heating up to 53m2 plus a number of other perks, including an oxygen depletion sensor, a safety tip-over switch and a flame failure shut-off.
The Magiglo Gas Fireplace allows you to give your existing fireplace a facelift with the clean convenience of gas and various media options: logs, pebbles, and coals. Styles range from classic to contemporary, but all leave a dashing impression.
Medium
An impressive example of quality design, innovation and ambience, the Rinnai 650 includes Rinnai's distinctive ember bed technology. Free-standing, with room temperature display and flame control, its wide viewing window and double-glazed screen add to its visual appeal.
With a high output, five-star efficiency and a generous viewing area, the Escea DF990 is pure leading-edge technology in a minimalist frame. You can control this gas fireplace with your smartphone, and the chic design allows for double the space of similar models to admire the flames.
High
If you can afford the very best, the Regency San Francisco 60 City Series is an elegant addition to any room. It looks as stylish as it gets and, even more importantly, keeps you, your family and even your valuables safe. Cool Wall Technology keeps artwork and electronics safe from the heat, and an invisible glass safety barrier gives you a stunning view of the flames.
Low
This classy, realistic and warm electric fireplace is designed to be installed in any existing wood-burning one with no need to run an electrical line. It comes with a battery-powered and Wi-Fi-enabled set of Sunset Charred Oak electric logs. Even though it is an electric fireplace, it features remarkably detailed and lifelike logs and embers.
This recessed wall-mounted electric fireplace has a sleek trim so you can better view the realistic-looking flames. Hybrid-FX™ flame technology has 12 different colour options, and you also have variable motor control and remote control.
Medium
A premium and versatile fireplace, the Regency Gazco eReflex is multi-sided, can fit into the left or right corner or right in the centre, and can be finished with different kinds of materials. Options include six levels of adjustable brightness, three dynamic flame options and 13 colours.
High
This classy, top-quality fireplace is suitable for everywhere in the house and really shines due to its Chromalight Immersive LED technology. It also has a thermostatic remote so that you can set the temperature where you want it and keep it there.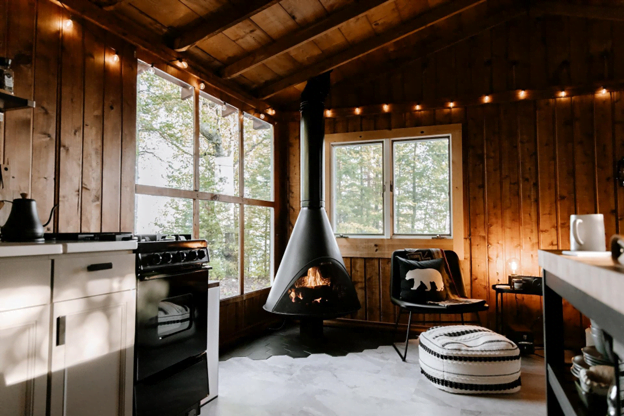 Get a New Fireplace From Home Fires
As Sydney's leading fireplace and BBQ specialist, Home Fires are used to providing the people of New South Wales with the solutions that best suit their homes. A trusted company for more than 40 years, we bring all the leading brands under one roof and offer 24 months interest-free, the best prices guaranteed and expert advice. We'll warm your home this winter and all year long for as long as you live in it.
For help choosing the right electric, gas or wood fireplace, contact the Home Fires team.